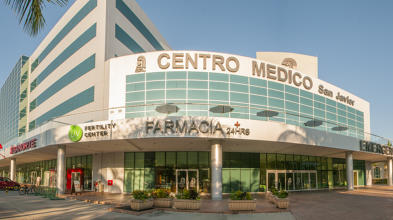 CALL TOLL FREE | For English +1-855-534-5340 | For Spanish +1-855-534-5342 | Local +52-322-29-72077 | SKYPE- IVFvallarta
Learn more about the LIV Fertility Center… and take a 360° virtual tour of the clinic.
IN THE MEDIA — LIV is Now the ONLY MicroSort® Mexico Licensed Clinic (Read More Below)
Not only can undergoing invasive treatments carry fear, handling the financial burden carries another dimension of unfamiliar sensations. Our team is continually striving to implement new infertility technologies and a management structure to embrace patients on their journey to parenthood.
Inside the LIV Fertility Center in Puerto Vallarta, reproductive specialists provide a comprehensive approach in treating a broad range of infertility disorders. Led by distinguished fertility specialists, Dr. Isabel Suarez and Dr. Aline Garcia, LIV provides access to expert physicians — who are forming the next generation of fertility doctors that are shaping the future of reproductive medicine. Our prominent fertility team enables intended parents a deserving chance to breathe.
MicroSort® in Mexico
The leading fertility clinic in Mexico, LIV Fertility Center, is now the only licensed laboratory for MicroSort® Mexico — the gender selection technologies corporation responsible for helping intended parents have a baby of their desired gender during assisted reproductive technologies (ART). With the new equipment arriving to the LIV facilities this month — the team at LIV is looking forward to integrating the now in-house family balancing technique with their own fertility services.
"To be the only licensed laboratory to produce MicroSort® in Mexico, this was a progressive and rewarding step for us here at LIV," stated Tolga Umar, CEO and Founder of LIV Fertility Center. "We are extremely excited of the hard work that went into acquiring the MicroSort® brand, and tremendously consumed with offering intended parents across the globe this advanced and successful fertility asset inside our own clinic. We are particularly interested in our continued investment in not only our patient's futures but also the fertility industry."
LIV Fertility Center in Puerto Vallarta
Our warm and inviting — professional fertility center offers patients modern conveniences. The LIV Fertility Center steps out in style with a breathtaking complement of enhancements and stylish cues — highlighted by its unique brand logo, accentuating the lifecycle of LIV. The founders of LIV reimagined a facility where patients could receive comprehensive care in one location.
The world-class laboratory was precisely deliberated to uphold pioneering innovation for in vitro fertilization (IVF), blastocyst transfer, embryo cryopreservation, assisted hatching, and preimplantation genetic diagnosis (PGD). Operating year round, the fertility center embraces compassionate and respectful patient care —an integral part of our approach to fertility care.
Advanced IVF Treatment in Mexico
At LIV, our fertility specialists are some of the most renowned experts in the field. Our center believes in a team approach to fertility treatment. We trust in our multiple and complimentary medical disciplines to lead you on your journey to pregnancy success. Our reproductive specialists personalize the patient experience and are devoted to persistently furthering their knowledge of reproductive medicine. Both inside and outside of the center — LIV gives you the confidence to explore and enjoy an intimate experience in Puerto Vallarta.
Adhering to a set of core values that characterizes our beliefs, the LIV Fertility Center's mission is to provide trustworthy and successful infertility lifelines to those we serve on all facets of the globe.
Exclusive IVF-FET Option
The LIV Fertility Center in Puerto Vallarta is proud to offer an exclusive IVF-FET option for intended parents.
What does it include? If your first IVF attempt is unsuccessful, our IVF-FET Guarantee (In vitro Fertilization + Frozen Embryo Transfer) covers 1 additional embryo transfer at no cost. (**excludes medication and endometrial preparation)
Meet Our LIV Medical Team
Dr. Isabel Suarez, M.D. Reproductive Endocrinology and Infertility
Dr. Aline Garcia, M.D. Reproductive Endocrinology and Infertility
Yazmin Loya Munoz — Andrologist
Becoming a MicroSort Mexico specialist has its challenges, but it allows me to work with individuals from across the globe… different cultures and different points of views and has truly broadened my world.
Emb. Karla Martin Del Campo Ruíz — Embryologist
Emb. Karla Ruiz is now the lead embryologist at the LIV Fertility Center in Mexico. With extensive experience and proficient skills, Karla has earned a widely recognized reputation for excellence.
See full resume
Believe in LIV — We Believe in You.